Read this article on the42.ie
Scrum Doctor Bracken taking Connacht and Wasps lessons into coaching
A Heineken Cup-winning prop, Peter Bracken has developed a scrum-coaching business.
THE SCRUM WAS Peter Bracken's pride and joy as a player and his passion for it has only grown since hanging up his boots in 2011.
The former Connacht and Wasps tighthead helped Ireland Women to a World Cup semi-final in 2014 as their scrum coach, and is now venturing into new territory as 'The Scrum Doctor'.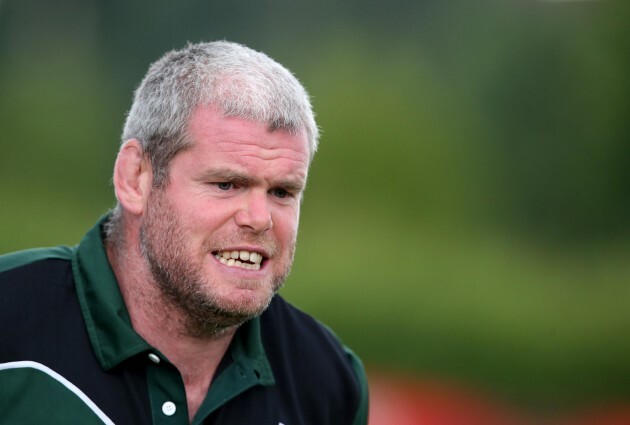 Bracken has moved into the world of coaching.Source: Dan Sheridan/INPHO
Essentially, Bracken's business provides scrum coaching and scrum analysis for teams and players at all levels of the game, while his new 'scruminar' venture is designed to help clubs build a genuine scrummaging culture.
After a varied and successful playing career during which he won a Heineken Cup and should probably have earned senior Ireland caps, Bracken's qualifications are beyond dispute. The scrum has always been his life and now, he hopes, will be his livelihood.
"It's a niche," says Bracken of the idea behind The Scrum Doctor. "There's a lot of good coaches in clubs around the country but there aren't very many scrum experts.
"What I find is happening is that there are a lot of kids at underage levels and players in adult teams who aren't being coached in the scrum at all, or being coached badly. That's quite dangerous I think.
"The scrum is so technical that if you're not an expert, you can't really coach it. Some teams ignore it and hope for the best, expect the players to get on with it and hope they don't get injured."
Bracken feels that everything in his rugby-playing life has been leading up to the development of this business, all of his experience in the professional game feeding into what he's doing now.
A Tullamore native who also played in St. Andrew's College in Dublin, as well as in the All-Ireland League with UL Bohs and Galwegians, Bracken started out as a second row and back row in his youth, before making a permanent switch to the front row aged 19.
His father, Tom, had been a prop in his own playing days, meaning there was always hearty encouragement to accept a place in the front row union.
"He'd always be showing me technique there even though I wasn't always playing in the front row when I was younger," says Bracken.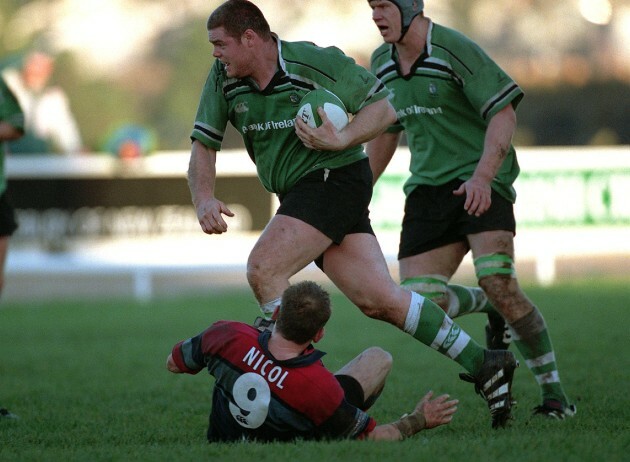 Bracken in action for Connacht in 2001.Source: INPHO
An extremely strong athlete from a young age, Bracken had been asked to slot into the front row at various times throughout his underage years to fill gaps created by injury, before finally accepting a full-time switch in his late teens after an initial reluctance.
"Physical strength is just a small part of it," says Bracken. "I spent a couple of years eating grass and struggling against guys but, eventually, I found my way. My dad was always harping on that 'it's all about technique, it's all about technique, it's all about technique.'
"He had that drummed into me and he was right. After two or three months of my first season in the front row, I just thought it was brilliant. I really enjoyed that battle in the front row that you don't really get in any other position."
Always determined to better himself and realising that he could make a career from rugby, Bracken sought out the help of the legendary Role Meates in order to accelerate his scrummaging craft.
A former Ireland head coach and IRFU selector, Meates is a father figure in Irish scrummaging. Up until as recently as 2008, he worked as Leinster's scrum coach and Bracken benefited hugely from the knowledge of a world-class scrummaging expert.
"When I was going into adult rugby and playing AIL, I used to drive from Limerick or Offaly or Galway or wherever I was and do scrummaging sessions in Roly's little video room on the carpet. His wife would bring in tea and scones for us.
"An awful lot of props went before me and after me, an awful lot of top international props learned from him. Lads are still learning a lot from Roly."
The influence of his father and Meates left Bracken in a good position to earn his first professional contract and he joined Connacht in 2001 after a few appearances for Munster, signing when South African Steph Nel was in charge.
"My first three years were excellent and I really enjoyed it," says Bracken of his time with Connacht.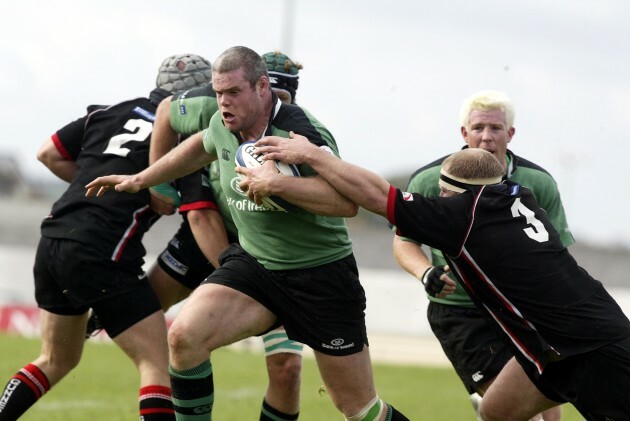 Bracken's days in the back row meant he was a strong ball carrier.Source: ©INPHO
"It was my first contract and I was young, but I was given an opportunity to start week in, week out. I developed very quickly by playing that much and it's so important for front rowers. The more games you play at a young age, the better it is for your technique."
Bracken wonders what that young Connacht group might have achieved if they had remained together for longer than they did – he left in 2005 – but the province was very nearly dissolved in his time there.
Bracken was part of the squad when the IRFU put in motion plans to shut Connacht down, leading to a protest march on Lansdowne Road in January 2003.
"I remember we had a day off and we all got a phone call from Dan McFarland," recalls Bracken. "He said, 'It looks like we're all going to be out of jobs.' We went in as a player group and had a chat about it. It went from there and Dan was instrumental in getting us to rally around and see what we could do about it.
"The whole Connacht branch, the whole set-up, decided we weren't going to take it lying down. Not just for Connacht, but we thought it was a bad move for Irish rugby in general.
"We went up to Dublin and marched. For me as a young fella, without the responsibilities of a family it probably wouldn't have affected me or I wouldn't have realised the real consequences of it as the senior players would have."
While the journey to Dublin that day was grave, Bracken does remember one joke amidst the worry.
"We were saying the day we went up that there were more people marching in Dublin than ever came to a game!" says the 38-year-old with a laugh.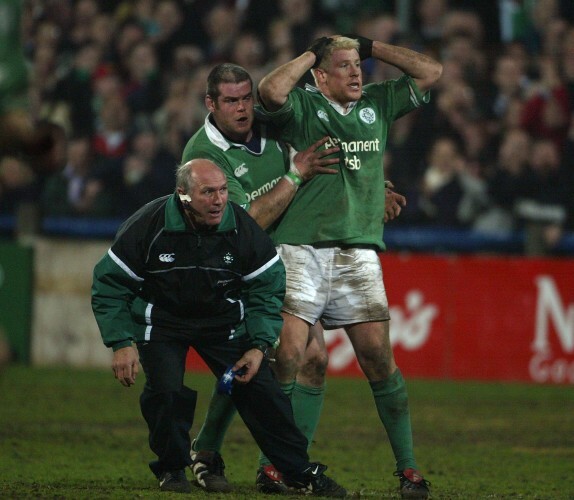 Bracken and Mark McHugh watch the latter's winning penalty against England A in 2003.Source: INPHO
More seriously, Bracken stresses how loyal the core group of Connacht fans at that time were, while he is taking pleasure in every moment of the western province's rise in recent seasons under Pat Lam.
As well as rallying the playing squad in protest at the IRFU's plans, fellow front row McFarland – who went on to make a hugely successful transition into coaching with Connacht and now Glasgow Warriors – proved a major influence on Bracken.
"Dan was a scrum nause and we used to have great old chats after training about scrummaging.
"I really did rely on him in my Connacht days and I appreciated the time he took with a fellow player. I'm not surprised how brilliantly he has done as a coach with Connacht and now Glasgow."
Bracken's final season with Connacht, under Michael Bradley, saw him earn less and less game time, before an approach from the biggest club in Europe led to the most exciting years of his career.
Warren Gatland's Wasps had a vacancy at tighthead and targeted Bracken as their man.
"They were the two peak years of my playing career," says Bracken. "I wasn't getting many games in my last year with Connacht and all of a sudden Warren Gatland rang me up and asked did I want to join the current European and Premiership champions.
"I went in as the first-choice tighthead prop, so it was brilliant."
That Wasps squad was a sensational one, with World Cup winners like Lawrence Dallaglio, Josh Lewsey, Joe Worsley and Simon Shaw playing alongside French legend Raphaël Ibañez, Irishman Eoin Reddan and a young Danny Cipriani.
The arrival of Phil Vickery in his second season at the club meant strong competition, but Bracken helped the club to a Heineken Cup success in 2007, appearing off the bench as they beat a Leicester side including Shane Jennings, Geordan Murphy and Frank Murphy [Leo Cullen and Ian Humphreys were on the bench] in the final.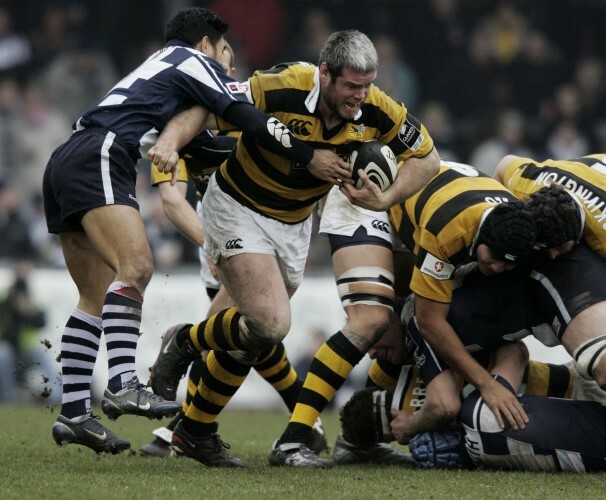 Bracken loved his time with Wasps.Source: Getty Images/INPHO
"I found that I stepped up my own game with those players around me, in that high-performance environment," says Bracken. "Connacht was high performance with good young professionals, but I went to a club that was top of the tree.
"I played in several games where I was the only non-capped player in the 22. The team might have had five or six World Cup winners at times, 21 international players and then me. It was great."
Given that he was good enough to be part of that Wasps team and the fact that he was playing the best rugby of his career, Bracken felt he might have done enough to convince Ireland of his worth.
Eddie O'Sullivan brought him on the tour of New Zealand and Australia in 2006, then to Argentina in 2007, but never seemed fully convinced of the Tullamore man.
"At the time, I thought it might lead on to a couple of caps at least. Eddie probably didn't rate me and that was it. I'm not saying I was good enough to be the starting tighthead, but I felt I was good enough to win a cap or two to prove myself.
"I went on tours and didn't get capped, which was a bit disappointing."
Being so close to achieving that goal did motivate Bracken, however, and drove him to even better performances with Wasps. He did play for Ireland A a number of times and also thoroughly enjoyed representing the Barbarians against England in 2006.
In 2007, Bracken accepted an offer from Bristol, still a Premiership club at that point. The fresh start soon turned into something of a "disaster," however when the club's forwards coach – who had convinced Bristol of Bracken's worth – was sacked.
A serious neck injury left Bracken out for six months at one point in his two-year stint with the club and he played far fewer games than he would have expected after moving from Wasps.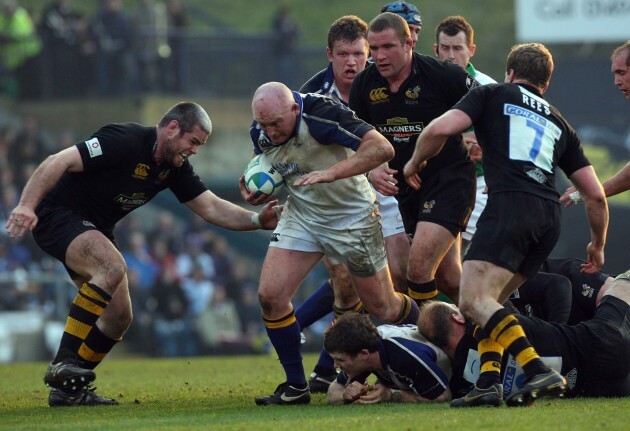 Bracken tackles former Connacht teammate Bernard Jackman.Source: Billy Stickland/INPHO
One of the positives from his time in Bristol was working with Geoff Moon, a Kiwi who was in charge of Bristol's academy and is a genuine scrummaging expert. Moon is now in Auckland working with young players and has coached the Blues' Development side.
"He took me aside when I was out with my neck injury," says Bracken. "We broke down my whole scrum technique and built it back up again. By the time my injury healed, I was a far superior scrummager and a better player in general."
After a short-term stint with Harlequins, Bracken then moved on to play Pro12 and Heineken Cup rugby with the Dragons in Wales before a final professional season with French side Carcassone.
That move to the Pro D2 was a complete shift for Bracken and not only in a cultural sense. Though France has a sound reputation as a scrummaging nation, Bracken surprisingly says he "learned nothing about rugby there really."
The natural talent and strength of players was everything in France, he found, and scrummaging was a prime example.
"Scrummaging consisted of hitting live scrums or the machine for an hour with no discussion of technique," he recalls. "I thought that was just Carcassone, but it was pretty much the way they worked in France bar maybe the very top three or four Top 14 teams.
"We went over to Toulouse for live scrummaging sessions up the road during the week and their set-up was exactly the same. They didn't really have any technique going into the scrum; it was just bind up and push, and push harder if you went backwards."
Bracken is fully accepting of the fact that different methods work for different people and players, but the approach in France jarred with what had become the norm for him in Connacht, Wasps and elsewhere.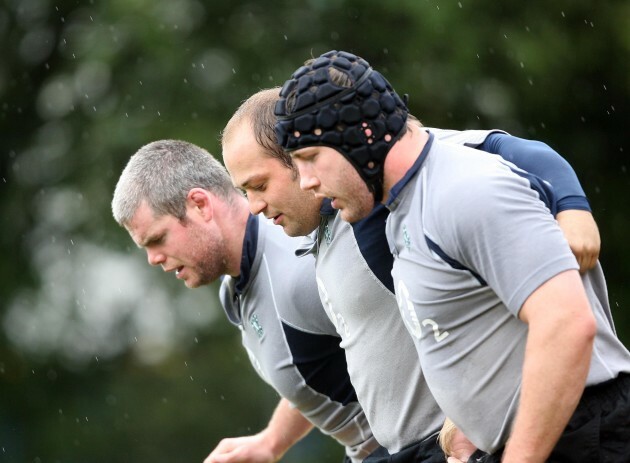 Bracken alongside Rory Best at Ireland in 2006.Source: Billy Stickland/INPHO
Mammoth training sessions lasting hours were commonplace while there was quite literally no defensive system in place at the club. The strength and conditioning programme was also rather laissez-faire.
"The local judo expert came in and wrote up on the board whatever happened to come into his head at the time," says Bracken with a laugh.
"There was an espresso machine down in the corner that half the lads would be standing around chatting while some of us were lifting weights. I'm sure things have changed now.
"There was no point in fighting it at that time, because it was their way. I used to do my own strength training to keep the strength up. I did what I could do in training without burning myself out for the game at the weekend."
In the summer of 2011, Bracken called it quits on his playing days. He has been working in the area of high-performance and executive coaching with businesses in the Connacht region in recent times as his main livelihood, and enjoying it.
However, he has not lost touch with rugby at any point. Coaching roles with junior clubs like Connemara and Castlebar, as well as his brilliant experiences with Ireland Women, have left him hungry for more and now The Scrum Doctor is picking up speed.
Bracken already worked with a range of clubs around Ireland and plans to branch into the UK next season. His scrum analysis service, meanwhile, is picking up increasing interest in the US and Canada, where rugby is growing rapidly and good coaching is required.
Many clubs send him footage of their games once a month, allowing Bracken to analyse improvements and progress as the season advances.
"Teams can send me their game footage, I'll analyse that and send them back a detailed presentation," says Bracken of that arm of the business.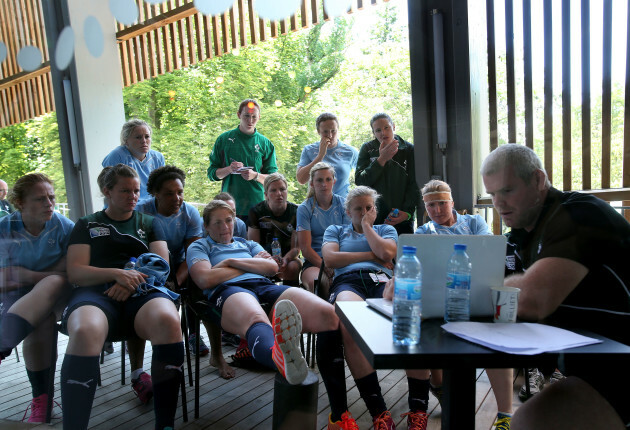 Bracken leads an Ireland analysis session at the 2014 World Cup.Source: Dan Sheridan/INPHO
"The analysis opens the services of The Scrum Doctor worldwide, because someone can send me a tape of the footage from anywhere in the world. I'll analyse it and it'll be back with them within a couple of days. It's the next best thing if you can't actually be there."
The superbly-named 'scruminars' will be rolled out increasingly in the coming months too, with Bracken particularly excited about this development.
"It's basically a scrum seminar and the whole aim is to build a scrum culture and a scrum legacy in clubs.
"It's not just about teaching one team and leaving, it's about leaving that culture behind. It's a full one-day course, about nine hours, as well as pre-course material for the participants to study before we start. It's like any other rugby training course, but specifically designed for scrummaging."
Bracken's view of scrum coaching is very much a rounded one. He provides direct coaching to small groups of players or individuals, but feels clubs and schools can get the best value from a wider-reaching process.
As important as coaching the players, Bracken feels, is coaching the coaches.
"You can coach a group of 20 players and it's only them who get the benefit. But if you coach six or 10 coaches while you're there, that lasts a long, long time."
Bracken stresses the importance of safety in his mission to improve scrummaging skills all over Ireland, and says that even a two-hour session with a team can be used to teach every other side in the club.
"I might specifically work with two teams, generally the club's two adult teams, and go through the session with them. But the U14s, U15s, and U17s coaches can be there with their packs; they can learn and take part in it too."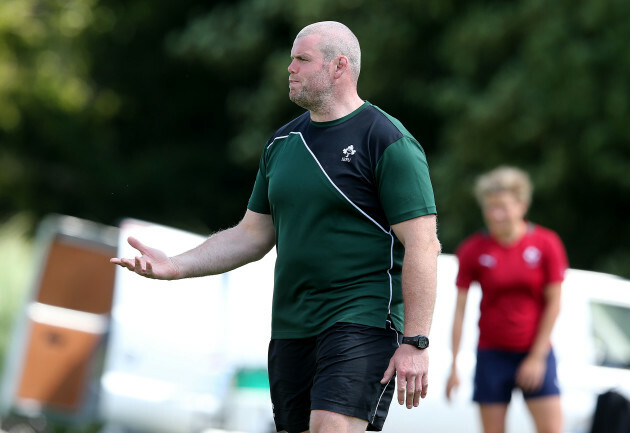 Bracken is now investing his energy in 'The Scrum Doctor'.Source: Dan Sheridan/INPHO
While playing was always a thrill for him, Bracken is taking major satisfaction from seeing underage and adult players learn the all-important technical scrummaging details and improve.
"It doesn't matter what level you're coaching at, it's about seeing that improvement," says Bracken.
"If you get a brilliant player and improve him slightly, that's brilliant. But it's just as satisfying to work with a player of a lower level and he or she can, all of a sudden, scrummage better.
"Maybe you've got a big, strong player with no technique getting pushed all around and then you sort out their technique, and they start dominating guys. I take satisfaction from that and it's why I got passionate about scrum coaching."
Tom Bracken and Roly Meates wouldn't have it any other way.